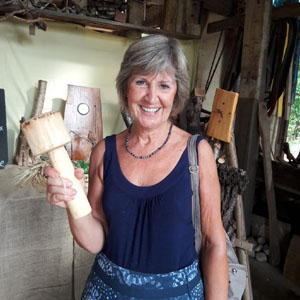 Anna with her Elm mallet
First experience of making a peg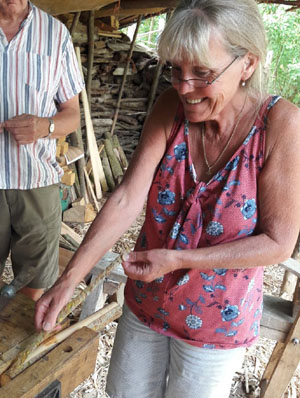 Laine has a go at stripping Elm bast
Have you ever wondered about Orchard Barn?



I did. I saw the signs on the side of the road, occasionally saw adverts for courses in making things out of wood, clay and straw that I thought had long since stopped being made and sometimes even encountered Orchard Barners at country events but I never really understood what they were about until I visited following a presentation at our local Gardening Club.
Even so it was still difficult to pin down what Orchard Barn is about. Nobody lives at Orchard Barn. People come and work there giving their time as and when they can. So what were they doing? Well essentially people, from children to those a good bit older, were doing some very practical things, sharing their skills and learning new ones to do with the ways people used to build houses and live, making best use of their environment.
We hear a lot about the environment these days and I like others, have come to the conclusion that there is something distinctly unsatisfying about our throw away, consumer dominated way of life especially if we consider what we are leaving behind for future generations. I seem to spend my time chasing my own tail trying to pack more and more into my day and yet still not have the time to appreciate and enjoy much of it. I felt that I needed an injection of New Perspective.
So without really understanding quite what I was going to I went along to Orchard Barn for a "Tree to Timber" day.
I can tell you that I am very glad that I did.
I parked the car and approached "The Barn". Everything had been made by hand from the timbers of the walls, the walls themselves and the shingles that roofed it. I thought I had walked into Tolkien's Hobbiton. My overriding impression of this barn – restored by people power – and of the one acre plot in which it sits, was its beauty. We live with things that are generally made by machines. They have neat and clean lines but when something is made by hand it has character. It holds something of the character of the people that made that thing, whether those things are buildings or a wooden spoon.
In short I felt surrounded by things that had a life to them.
In addition to the barn on its one acre plot there are workshop areas, paths, bridges, a garden. In these spaces people come to share and learn about making and growing things – large and small – by hand. They learn by doing, by talking, demonstrating, swapping experiences. There are no services on the plot - electricity, mains drainage, gas cylinders – nothing and that is strangely refreshing because we are so used to feeling dependent upon these services that to feel that we can actually survive without them is strangely and wonderfully liberating.
My day was a joy of meeting people who liked solving practical problems and in working with others could, with basic tools and their hands, make things – even houses. These skills have a value in their own right. They are the skills that our forebears developed and some, like thatcher's, hurdle and basket makers maintain. They ground us and connect us to the earth on which we live. They make us feel more confident. Of course we are not going to give up mains drainage or electric lights but neither do we have to lose our connections with the natural world in which we live. Orchard Barn feels like a portal to that balance.
So if you fancy a warm welcome and think that a bit of hands on experience would be of interest phone Sarah on 01473-658193 or email

Anna James 6th August 2018
Photos by Karen Temple-Nidd