Learn how to construct a clasp purlin roof with trees in the round
Work with non standard locally sourced timbers

Get involved in the construction of a vernacular style cart lodge frame

Work in a small group to build a roof frame


Discover how to cleave coppice woodland material into battens and shingles

Use traditional greenwood and carpentry hand tools

Practice a wide range of skills that you will find transfer well into your own projects
Dates:

2020/21 TBC



Expressions of interest:

please email Sarah

Timing:

9.30-4.00

Venue: Orchard Barn, Far Ringshall, Mid Suffolk, IP14 2LY

Tutors: Rick Lewis of Traditional Oak Carpentry and the Orchard Barn team



This course is designed for homeowners, natural builders, architects, surveyors or anyone with an interest in learning low tech construction using local trees and a traditional approach
"This course has given an excellent insight into what is involved in building a round-wood framed structure.This in-depth course took us from tree selection and felling in a woodland setting, right the way through to marking out and jointing the rounded timber roof rafters. I undertook this 5 day course under the excellent guidance of Rick Lewis, a highly experienced professional in the sector with an huge wealth of knowledge and teaching ability.
This course not only equips you with experience to carry out your own projects, however it informs you with the acute historical reasoning to how carpentry of this manner began, how it sits with us on a psychological level and relevance in today's housing climate. The course leaves you feeling nourished by the intellectual, personal and paced approach to practical learning.
I wouldn't shy away from admitting elements of complexity in such an undertaking, however again, due to the structure and deliverance of the tutorship, it was 5 excellent days I shall treasure and reap the benefits from attending."
Woodland Owner Anthony Gibson 14.5.2018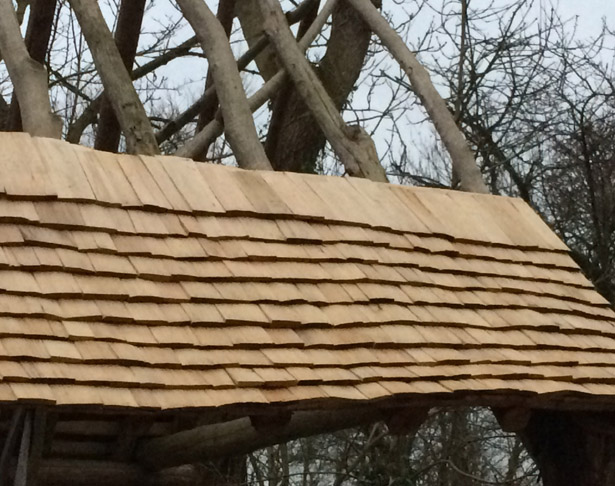 "

A good pace of tuition, with a chance to reflect on and understand all parts of the construction process; from the harvesting, preparation, measuring, marking and cutting.
A rich and enjoyable learning experience due to the depth of knowledge and accessibility of the tutors.
Understanding that inexperience should be no barrier to endeavour.
Coming away with a new skill set that I feel confident will enable me to commence in my desire to construct a roundwood log-store in my garden and, in the future, who knows what else....
And perhaps for me most importantly, a chance to step out of day-to-day routine, reconnect with nature and the environment and refocus on one's own well being in delightful surroundings."

Austin Clennett 18.5.2018