Tuesday is the main gardening day at Orchard Barn during which Steve and other volunteers work on, and develop the vegetable growing area. These comprise of a series of no-dig raised beds - Hugelkulture style. Paths are sheet mulched to discourage weeds. Compost is home-made in giant heaps and make great use of natural materials that we have an abundance of. Vegetables are either enjoyed by volunteers or sold locally to help balance the costs involved in the project.

'Helping with the garden always provides me with the opportunity to learn something new and environmentally innovative.' JP Moats Tye, Combs
'What more could a garden-lover want than to spend a cold blustery February morning in the calm shelter of the new Orchard Barn polytunnel, sowing peas into homemade compost, with the robin singing his little heart out in a nearby tree.

' MN Hadleigh
New volunteers welcome - either with, or without experience - please email sarah@orchardbarn.org.uk or phone 07766-054042

Our gardening project makes best use of hand tools and an organic approach. There are many advantages in these traditional, low-tech ways of working:-

Chemical free vegetables
Increased fitness
Collaboration and skills development
Quieter - we can talk, or listen to the sounds of nature
Kinder on the wildlife
No polluting fumes

Slower, mindful - helps counteract stress
Keeps old skills alive and practiced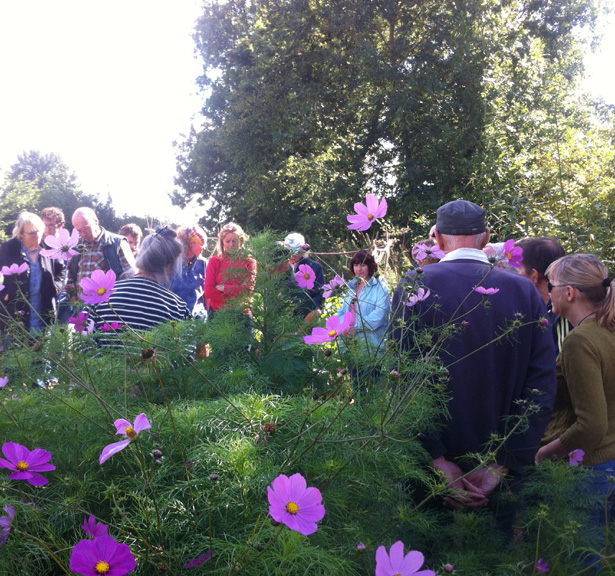 Gardening Volunteers Sean and Garry construct a deadwood 'hedge' using home grown Ash brash. Deadwood makes good privacy screens and wind breaks. They are free to construct as they make good use of brashwood. Construction of a deadwood screen creates extra habitat for mini beasts and birds.