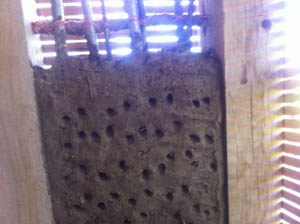 My fingerprints in reconstituted daub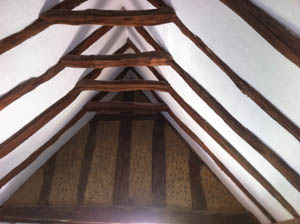 Fingerprints in daub dating back to 1400s





Fingerprints in Time 26th June 2018

At the end of my working day I leave my fingerprints in the mud wall. Nothing new there I hear you say! Well no, apart from the fact that this wall will soon be covered with lime plaster and my prints covered up for a century or two.
Recycling old daub

Three days ago I broke down damaged daub panels from the 1400's and underneath the hairy lime plaster were the fingerprints of the original daubers. I pressed my fingertips into their bold indentations, our fingertips met and pulled me back to medieval times.
Vernacular building with earth

What comes around goes around, or so they say. I've been trying to work out how I feel about treading in the footsteps of my building ancestors. I learn so much from both undoing and reinstating their work and the connections through time and space. My 21st century mind strives to understand and in doing so over complicates what is, and what was a simple process (once you know what you're doing).
The attraction of a derelict building

My hands smell of old buildings. It's a smell that used to haunt me. In my twenties I navigated my way through the little lanes of mid Suffolk from one derelict ruin to the next, and now I'm working with them! The aroma I took to be decay is damp daub. I find it both musty, sweet and attractive. Many of the relics I frequented were falling down. That was their charm. Only now do I realise it was the earth walls that drew me like a magnet.
Leaving my mark

So. Today I have been reconstituting 600 year old daub and putting it back in the places where it had to be temporarily removed from. How many women do you know of mildly mature years who can say they have re-instated vintage daub!
Following a long line of daubers!

Before I finish for the day the owner of the old house is keen to show me something in the upper part of the building. I climb a twisted staircase and am delighted to make the acquaintance of six original daub panels, fingerprints and all!

Downstairs in the same house, some 5 centuries later my fingerprints add to the long line of village daubers.

Subscribe to our email news (see above) to continue reading about our low-tech methods and old-time skills.